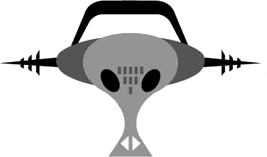 Raising up from the dead, we're the group that will never die! The infection is spreading, and with a ghoulish sound, the last words you hear is JET SET RADIO. And there's no cure, for now you are part of the JSRevolution!
As Halloween approaches, everyone's got their own plans in motion. Some are taking the little ones out for trick-or-treating. Some will stay at home with all the lights off watching horror movies. As for me, I'll be dancing to the beat with the supernatural soul of music! And in this special edition of Music of the Week, we're doing not one, but TWO highlights.
Our first band comes all the way from New York. Let's hear it for Absolution Project!
Founded in the spring and summer of 2003, Absolution Project is composed of former members of independent bands PLY and Loopus. This lineup consists of five seasoned veterans with an impressive background in the music industry. With a mix of styles and abilities, Absolution Project's sound is a diverse mix of the modern rock genre. The group's heavy rock roots are still undeniably present.

Based in Rochester, NY, Absolution Project's members are well experienced, having played alongside nationals including Snapcase, Green Day, Papa Roach, Dope, Nonpoint, Threat Signal, Ankla, Seeless, Trust Company, Good Charlotte, 3rd Strike, Lost Prophets, Adema, Finch, Dry Kill Logic, Agents of Man and 36 Crazyfists.
Next up is a band from south Australia. Raise your hands for Black Orchid!
Black Orchid began in January 2007 formed by guitarist/song writer Justin Hartwig formerly of Australian gothic metal band Chalice. After 9 years and 4 international releases, ("Chronicles of Dysphoria (2000)", "An Illusion To The Temporary Real (2001)" , "Augmented (2003)", "The Calm That Was The Storm (2006)" on Modern Invasion Music, Chalice members Sean Graetz, Simon Henderson and Mat Enright joined by keyboardist Gareth Chin and Abby Skye completed the newly formed band. With the experience gained from supporting artists such as Opeth, Mayhem, Leaves' Eyes and touring overseas the members of Black Orchid endeavor to present their music to the world stage through the release of their debut recording Inertia. Incorporating the passion of Nightwish, the drama of Opeth and the atmospherics of Pink Floyd, Black Orchid's "Inertia" combines all the right elements for a band on the verge of great things.
For more information on Absolution Project, check out their
MySpace.
For more information on Black Orchid, check out their
official website
and their
MySpace
.
Well, I've got to return back to crypt to keep spinning these tunes. Have a Happy Halloween, and don't forget to be safe and above all, have fun! We're the JSRevolution, and we're Shaping The Future With Music!